Photos 1-2-3-4-5-6-7-8-9-10-11-12-13-14-15-16-17-17o-17P-17Q-17R-17RR-17s-17SS-17SSS-17T-17U-17V-18-19-20-21

<![if !vml]>

<![endif]>
Happy News from Ed Harris...
Hi Everyone, I want to take this opportunity to announce that I got married in April to the beautiful lady in the pictures with me, that God brought
into my life last year.
Perhaps at future reunions you will meet Pat and get to know the rare gem I discovered. She is a wonderful, compassionate and caring lady with whom I intend to spend the rest of my life. I have grown to know, through her, that the most precious possession that ever comes to a man in this world, aside from receiving eternal salvation, is a woman's heart, and that I have been fortunate to receive from Pat. I truly am a blessed man.
I also have written a book titled 'The Quest' published by Xulon Press (You can view a video trailer on YouTube--type in The Quest by Edward L. Harris) The book is an inspirational guide to achieving your purpose in life
regardless of age. If anyone is interested in a copy contact me by email,
ed_harris@verizon.net or call me, 714-501-2291. It can also be obtained
through Amazon.com.
Retirement and getting older doesn't have to be boring and unexciting -- I
believe the latter end of our lives can be the best yet. -Ed Harris

San Diego, February 2011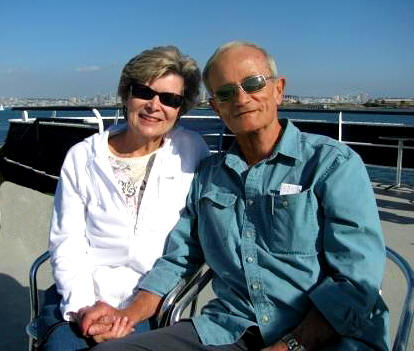 Pat & Ed

Ed, congratulations to you & Pat!
Muchas felicidades para tu y su bella dama.

**********************************************************************************************************************************************************************
Click Photos to Return to News Page
**********************************************************************************************************************************************************************


Photos 1-2-3-4-5-6-7-8-9-10-11-12-13-14-15-16-17-17o-17P-17Q-17R-17RR-17s-17SS-17SSS-17T-17U-17V-18-19-20-21