<![if !vml]>

<![endif]>
Due to popular request, here's space to place memories of the olden days at AHS and El Paso. Email your memories or commentaries to
OhAHS@aol.com
.
---
1946 - El Paso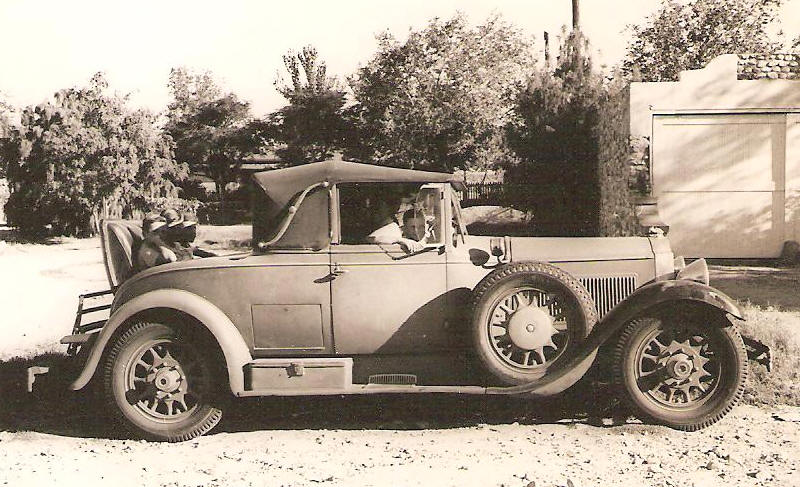 Ted & Bob Gemoets and their Grandfather Gemoets in his 1928 Packard
[Click on Photo to return to News Page]
July 2011 Email Exchange:
Bob Gemoets: Ted and I are in the car along with several of the neighbor kids. My grandpa died in 1949 and he left the car to a relative. The last I saw, it was in the late 1950's I believe, at Dawson Motors. We understand from my niece that the car was restored and was seen in the Sun Bowl parade. Maybe someone who lives in EP might know where it is today.
Hap Lamberth: Bob, can you identify where you and Ted are sitting?
Bob: Ted and I are sitting in the right front seat and the right side of the rumble seat. I don't know who is who -- I think that is Paul Talbott (he was a year ahead of us at AHS) in the center of the back, and I don't know who is in the left. My grandfather would take all the kids in the neighborhood for rides when he came to the house. This picture is in front of our house on Oxford Street.
Hap: Neat car. I've zoomed in on the photo, and for what it's worth: The boy in the front seat has more prominent ears than the boy in the back. Also, the boy in the front has a big grin, and the boy in the back is looking a little serious.
Ted Gemoets: Bob or me right side rear, Bob or me right side front. I think Paul Talbott and neighbor Jackie Aguirre are in the center and left side rear. Our grandfather, we called him Dony, rebuilt the motor several times.
Hap: Ted, from the looks as zoomed-in, I think Bob is in front and you are in the rumble seat. I got intrigued with your Grandfather's car.. it appears to be a "convertible coupe"; and with the length of the snout, probably a six. I've looked around on the internet, and can't find any with the tool box or the spoke wheels; seems to be very rare. As far as I can tell by photo comparison on the internet, this car is a 1928 model. Looks like fancier models have cowl doors and big radiator cap ornaments. Interestingly, there seem to be a lot of old Packards in Spain!
Ted: Yes it is a 1928. Straight 8 flathead. Transmission was a three speed, non synchronized, similar to the Ford Model A. Bob and I learned to drive in that beast.
Bob: This photo was taken from our front yard looking across the street. The half of the street across from our house was never paved because the owner of the house never paid his taxes. We lived at 4126 Oxford. The car's right front fender was black because our grandfather replaced it after hitting a cow. Yes the car has wood spoke wheels and is a convertible. Our grandfather never put the top down. He probably added the tool box since he was always working on the car. I remember when he replaced the motor in his garage. Our grandfather would sometimes take us to school so the kids that went to Coldwell grade school may remember the car. Ted may remember more details.
Hap: Interesting about the street paving. These days the "city" usually just paves or repaves the street and simply assesses the owner!

---
Sharing A Bit More of Family History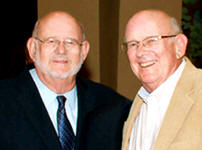 Ted & Bob
Bob: This article was sent to me by my niece in EP, might be of some interest to our AHS '56 classmates. I remember my mother talking about "Aunt Tootsie"...
El Paso Times - January 16, 2012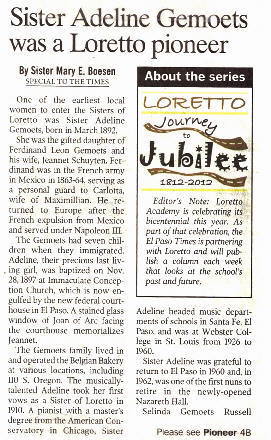 Larger print for old eyes:
Sister Adeline Gemoets Was a Loretto Pioneer
By Sister Mary E. Boesen
SPECIAL TO THE TIMES

One of the earliest local women to enter the Sisters of Loretto was Sister Adeline Gemoets, born in March 1892. She was the gifted daughter of Ferdinand Leon Gemoets and his wife, Jeannet Schuyten. Ferdinand was in the French army in Mexico in 1863-64, serving as a personal guard to Carlotta, wife of Maximillian. He returned to Europe after the French expulsion from Mexico and served under Napoleon III.

The Gemoets had seven children when they immigrated: Adeline, their precious last living girl, was baptized on November 28, 1897, at Immaculate Conception Church, which is now engulfed by the new federal courthouse in EI Paso. A stained glass window of Joan of Arc facing the courthouse memorializes Jeannet.

The Gemoets family lived in and operated the Belgian Bakery at various locations, including 110 S. Oregon. The musically talented Adeline took her first
vows as a Sister of Loretto in 1910. A pianist with a master's degree from the American Conservatory in Chicago, Sister Adeline headed music departments
of schools in Santa Fe, EI Paso, and was at Webster College in St. Louis from 1926 to 1960.

Sister Adeline was grateful to return to EI Paso in 1960 and, in 1962,was one of the first nuns to retire in the newly-opened Nazareth Hall.

Selinda Gemoets Russell, the great-great niece of Sister Adeline Gemoets, knew she had done a good job when the parishioners at St. Matthew's Saturday folk-guitar Mass sang along with the choir.
One of Selinda's most treasured possessions is Sister Adeline's upright baby grand piano.

Selinda played drums in the Loretto orchestra in 1962 and then went on to win All-State vocal music awards when she graduated from Ysleta High School.

A band scholarship sent her to UTEP. Selinda led the St. Matthew's Catholic Church choir.

Ana Gemoets, Loretto class of 1998, and Christina Gemoets, class of 1995, continue the family tradition of loyalty to the Sisters of Loretto.

Loretto Academy gladly celebrates each woman's contributions to EI Paso as they celebrate the 200-year anniversary of the order in 2012.

Sister Mary B. (Buffy) Boesen, SL, is president of Loretto Academy.
Bob's Niece Kathryn: This was in our newspaper as part of a centennial celebration of Loretto Academy (the oldest Catholic girls school in El Paso, known for its rigorous standards on education and discipline). Sister Buffy wrote weekly articles about different women who had been part of Loretto. (I think Buffy and Tootsie are both great names for nuns, don't you?) I wrote a note to Sister Buffy thanking her for the article about Sister Adeline, and told her what Sister Adeline's family alias was.
---
'50s Juarez Photos from Hap Lamberth:
Juárez en el día: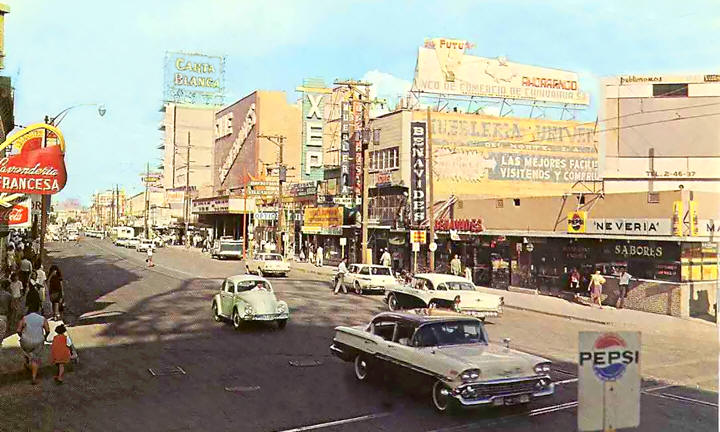 Most of us were more familiar with Juárez en la noche: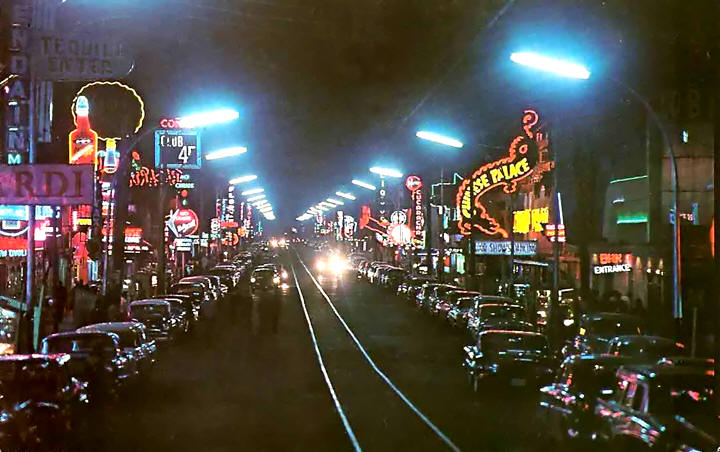 May 2008 email exchange:
Hap: Photos from Juarez in the 50s -- maybe a few memories recalled here?
John Passero: HL-GRATIS MEMORIES!!!
Ed Thurman: Thanks for the beautiful pictures of colorful Juarez. Even though I grew up in El Paso I never got the chance to visit Juarez in person. Perhaps you can tell me what I missed by never going there between the ages of 12-18? Thanks. PS I also have a bridge in Arizona if anyone is interested.

Bobby Jones (to Jack Valdespino): Jacko, I wonder who that was that always sat next to us at the Lobby? I remember he had red hair.

Ed: I think her name was Burtha. At least that's what Jack told me in 1954. But her hair was dark red.
Bobby: Ed, would you take a Gunning Casteel credit card for the London Bridge?
(Malcolm) Mike Newbill: Ed, well, there were these kids that caught pennies in these cone like things... and great food on the street.. and these sons of virgins all over the place... and really cheap gas... and the most fantastic paintings on velvet that anyone had ever seen...and hard assed entrepreneurs that held the line on the cost of leather goods 'n shit. Ah, Juarez. But the best was XELO -- equis e le O, Chihuahua Juarez, Republica de Mexico. 5 million watts of quality radio, bringing us great country music and deal after deal that could not be passed up. The autographed pics of Jesus, with the gospel ball point pen for the first 50 orders, and 10 (count em) rose bushes for 2.98, and fool proof harmonica lessons (with harmonica) for the same price. C L I N T, that's
C L I N T, Texas, folks.... sniff.

Ed: Hi Malcolm! Thanks for the update---- I may be wrong about never being there because I can vaguely remember some of those things. XELO was great--- Dallas just recently dropped their exclusive Western Station and that hurts.

Charlie McBeath: ....Wasn't XELO in Del Rio instead of Clint? How well I remember Juarez.. Anybody see or hear from Billy Russell or George Doolittle, they should have some good stories of times in the border city....

Hap: Ed/All, Someone ought to collect and edit biographical sketches on the subject from those of our era... there is probably a best selling book there! P.S. Ed could just use his imagination for his input! :}
Danny Wever:
I heard they had a language school over there for people with money. You would put your twelve year old son in this school and he would be assigned a special complex complete with servants and triplet 14 year old girls. After 2 years your son would be able to speak Chinese! Of course it did not make any sense but it sounded like Chinese and he would never shut up!! My family never had enough money for this luxury.
Jack Valdespino: Ed, your memory did lapse, I got arrested with you coming back from sin city when we were 17.

Ed: Jack, arrested! Are you sure? Just last Sunday I told my preacher I had led almost a perfect life... Please do not tell him. Arrested? How could that slip my mind? Btw, how is your back? What is your handicap now?
Richard Cook: That's what they say ED. You'll go to hell for lying, same as you will stealin! ChoirBoy

Jack: Yea in rev wright's choir.

Bobby: Richard. Choir boy? Hey it works both ways.
Richard: Aw hell Bobby J. I haven't lied in a long, long, long, time and I took back things I didn't even steal.
Jack: Ed, New hip doing well, golf game getting much better only playing 4 days a week did you read what is happening in Juarez now? i hope your business is going good, you are the only one left working.
---
Café Charmont & the Lobby, Juarez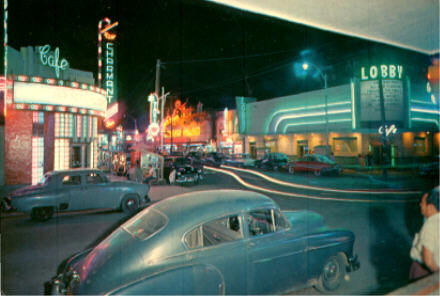 Thanks to Hap Lamberth for this photo, also
---
Postcard emailed to Clyde Hooten ('57) from Carolyn Stovall Ryan ('60):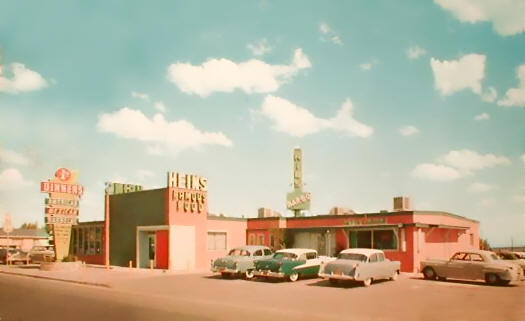 Clyde Hooten: How cool is this! Heins, at Chelsea and Montana was just down the street from my parents' house at 5421 Olson St.
We (neighborhood kids) used to play in a triangular shaped lot across the street from Heins as 10 - 12 year old kids. The lot was bordered by Trowbridge, Chelsea and Montana, and a big old tall billboard that faced both ways on Montana Street was directly across the street from Heins. They eventually leveled that lot and built a grocery store--Food Mart, I think, where we used to play.
Some of my playmates there were Robert & Ralph Brooks, Bill and Glen Sharp, Eddie Brewer and Hap Lamberth. As kids, we'd climb up between the billboards and play. We made a sort of tree house out of cardboard up there. I remember watching Heins progress from its humble beginning as a surplus Army building purchased and moved to Montana & Chelsea to what it later became. Too bad it no longer exists.
Later as a young adult, I had some good meals in their dining area and (sorry to say) I spent quite a few hours in their bar too, nursing a broken heart and some hangovers too in the 1960's. The bar maids, Margo and Schotzie knew me pretty well.
Thanks Carolyn. This is one of the neatest postcards yet.
Hap Lamberth: I came along too late to participate in the billboard treehouse described!
Bobby Jones: My parents used to love eating at Pappy Heins' place. I believe the son owns "Greenery" Restaurant at Sunland Mall on the west side of town just north of the race track, north side of freeway. Good place to eat, good food.
Bill Vechione: My dad's garage was just down Montana from the restaurant, and when I was in the 7th grade, I started working there, then throughout most of HS. Old Pappy Heins knew us well, and at that time his son Jay also worked there. Jay and I got together later in life playing tennis, but haven't seen him in a few years now, since he's over 80 and doesn't play anymore. His son Mark is the one that owns the Greenery (and now has expanded to other restaurants in town). The food there is good, but more expensive than I remember paying at Pappy's place. Could be time is expensive??

---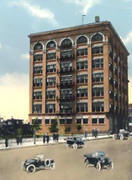 Martha Delgado Bostwick:
"This is the El Paso and S.W. Railroad Building. I have
a few old postcards from the old days. My dad kept a lot of the things from old El Paso, especially newspaper clippings, and I still have a large box full of clippings of the history of El Paso. My Great-Grandfather painted the railroad depot. He always had a pain in his leg when it got cold. He fell painting the ceiling of the depot. Martha (Poopy)
---
Hola Classmates…. Some of you might enjoy seeing this 1953 photo of the entrance to the downtown Juarez Bullring -- and check out the ad on the wall that mentions my dad, Dr. Frank J. Devlyn, optometrist in Juarez, whose optical offices were in front of the Juarez City Market.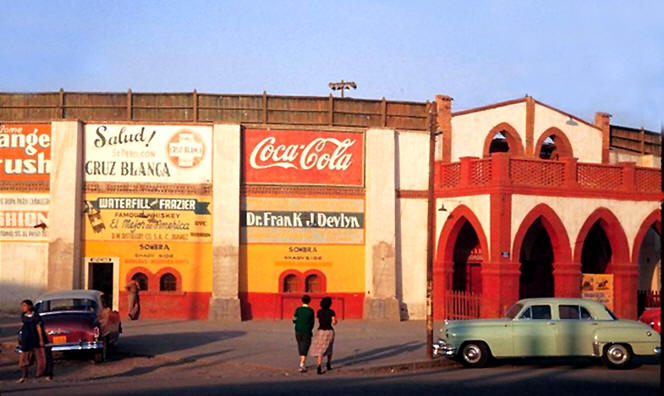 My father was originally from the Chicago Area and married my mother, who was from northern Mexico, and thus the reason they opened up the first optical clinic in Ciudad Juarez, Chihuahua, in 1936, our home in that border city with El Paso. My father and mother were both optometrists and had many patients/customers who came to Juarez to save money on eyeglasses, like many El Pasoans who visited Juarez for economical dental services, besides getting the Mexico Experience by shopping and dining at various restaurants, nightclubs, stores, curio shops, etc. Our Optical clinic was right in front of the Juarez City Market.. this was of course before the current mayhem that drug mafias have caused, making Juarez one of the most dangerous cities of Mexico, now unfortunately the case for most border cities. Yet El Paso, thankfully, just across on the other side, is the 6th safest city in the U.S.A.

Re one of the other ads in the photo above, many of you also well remember our late classmate Juan Stockmeyer, whose family owned the famous Cruz Blanca & Carta Blanca Brewery in Juarez.
For a time from 1949 to 1959 Dad also had 3 optical clinics in El Paso…. Some of you will recall the last one in El Paso, which was on Montana Street. In the early 1950's dad had a clinic on Texas Street downtown, another on South El Paso Street and one on Alameda Street -- this was before the era of Shopping Centers... all of Downtown El Paso was like one big Shopping Center. Boy, has the business world changed all over the world.
I used to take this streetcar every day to Juarez after classes at Austin High: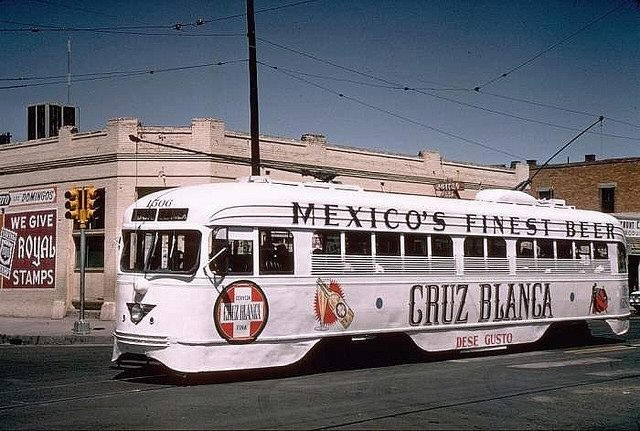 In 1959 my father, mother and I decided that we would focus our optical business only in Mexico, and we have become the largest in Mexico and Latin America. You can consider us the Lenscrafters of Mexico.
Check out our website www.Devlyn.com.mx in Spanish…. The pictures tell a thousand words for those who did not study Spanish with Mrs. Brown at Austin High.
Your Amigo and Classmate in Mexico City...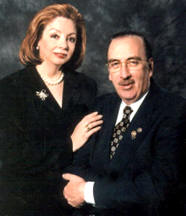 Gloria Rita & Frank
---
Milt Womack to Richard Cook: I know that you are a lot older than me but I can appreciate your concerns about getting so old. Use WD-40 on the joints and take lots of Metamucil. Just dream about the studs that still can see something above two hands! Capt. Empath

Richard Cook: I appreciate those consoling words Capt. Actually, if I am older than you, it isn't by much. Do you remember Milt when your dad wiped out your stash of beer you'd hidden in the garage fridge? He never looked in the fridge in the garage, never even went out there, but that day he did for some reason, and when Milton came by with his crew, there was Hugh stabbing beer cans with a screwdriver and throwing them in the trash. "Well, so much for the Happy Hour today boys." My dad was a postman, he rode the bus to work when he was working at Station A in Five Points. He came by on the bus while we were at the Oasis. He told me later, " If I was out shooting hoodlums, I would have shot you first." He spoke often about me and my hoodlum friends. My mother would let me go to the show on Sunday with Norman Lane, but they wouldn't let me go even to Dairy Queen with Milton Womack or Bobby Jones. But my mother and my dad later raved about Bobby Jones, they always had to stop in Van Horn when Bobby had the Bar-B-Q place. They didn't see Milton after high school but they would've been proud of him also. They saw the video that we made at the 40th Reunion, I showed them all of my hoodlum friends grown up, my dad couldn't believe we all made it that far. "Just tell your hoodlum friends outside, You ain't got time to take a ride."
Bobby Jones: yep, back then somebody had to take the fall for all the pranks and it was usually me and milty. it happened at pep rallys, at the lockers - and of course at the oasis. we usually had the most dates too.
Richard Cook: Bowman and I take exception about who had the most dates. We didn't do too bad. However ours were pretty steady, I was with Nona the first three years of high school. But I made up for lost time after that.
Fran Johnson Redwine: Yeah you did. I remember you boys had some killer ducktails. And how you wore your levis, just a hair away from losing them? You all often 'pantsed' and got pantsed. Guys wear them that way again now. You know, if Milton owned a hotel instead of a boat, there'd be a Milton Hilton.
Bobby Jones: if tuesday weld had married hal march jr. her name would have been tuesday march the 2nd.
---
Some New Year poems by Esteemed Classmates:
Happy Happiest New Year to you beautifully aged A's
How dear it would be if tonight I could gaze
Into your green, brown and blue orbs as in the olden days
When we did the Freeze, took an Oasis cruise and drank to a Ripple haze
Playin chicken, lookin hot & actin cool, goin through our James Dean phase;
Cheering our guys at the games, bopping to Annie songs (till Appleby ended the craze)
Then off we'd go to Juarez' boogy woogy clubs and sleazy strip cafes;
In those days News Year's Eve was a night to set ablaze
And New Year's Day was meant to be spent in a nauseous green-tint daze.

We're wiser now, we've changed a lot since those partyhearty ways,
Now most of us bring New Year in while snoring in a chaise
Or watching chilled crowds count down in televised displays
While we're snugly nestled, sipping nog, warmed by hearthfire's flickering rays;
Some of you might be massaged and steamed in hot jacuzzi sprays
And some of you A's will be steppin out to sway and play and hellraise.
Whatever's happening with you tonight,
May it be outta sight, a Panther delight;
Here's a New Year's toast to Each and All,
Have an acey groovy night!

~Fran Johnson Redwine
---
To the Austin Panthers, I raise my glass
Back in the 50's We had a blast.

From working on cars to doing the "freeze"
We had it made, Life was a breeze.

Beautiful girls all over the place,
Just two kinds of girls then, "nice" or "fast"
Never decided which kind surpassed,
They all felt good in an embrace.

We cruised the OA by day, Waszoo by night
We raised a lot of hell and we did it right.

Ole Bodog made us all laugh
With the stories he'd tell of his Army brat past
We had only really good times that I recall,
Life was a blast.

Bobby, Carol, MR and I took turn-about,
Bird-dogging each other, without a doubt,
Just when I was in love, he'd steal her away
So I'd go to the next pretty maiden waiting,
It was OK, Life was great.

Milton was cool, kind of in a different bracket
Especially when he showed up in the famous "Red Jacket"
He had James Dean down to a T
Though not any better'n me, except I didn't have a Mercury.

So here's to old time memories,
We had good times that'll last all our days
In memories of friends and fun,
With lots more fun to come.

-Richard Cook
---
My fellow Panthers are a rowdy crowd
But we are as one for we have vowed
To always be there if one should call
It's all for one and one for all

So hoist your drinks my kindred friends
We can set our sails in the worst of winds
Optimistic and fearless like the days of yore
We know together we can reach any shore

We have ranches, boats and golden triangles too
We write for the movies and make great Mexican stew
We can run like the wind but still drink like a fish
To be part of our gang would be anyone's wish

We'll always have fun and keep our spirits high
Let others be amazed and keep asking why and
How did these Panthers reach such a lofty plateau?
We'll say, "Just catch our act on our website show.''
-Milt Womack
---
Send your memories to OhAHS@aol.com