Photos 1-2-3-4-5-6-7-8-9-10-11-12-12a-12b-12c-13-13a-13b-14-14a-14b-15-16-17-18-19-20-21
<![if !vml]>

<![endif]>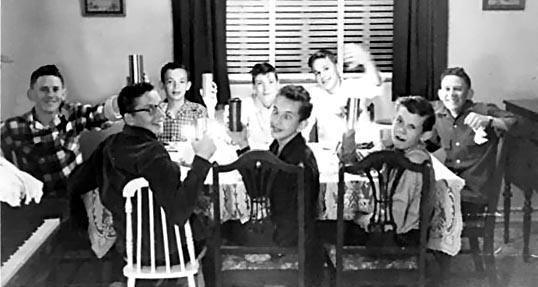 Bob & Ted Gemoets Birthday Party
Ted G., Lester Hansen, Malcolm Newbill, Bobby Jones, Bob G.
Front: Charlie MacBeth, Paul Talbot, Jon Hansen
---

Alfred Davis (middle) with younger brother Bill Davis (right, Class of '57) and cousin Michael (left)
on our "A" mountain, 1950

---
Boy Scout Dick Laughman..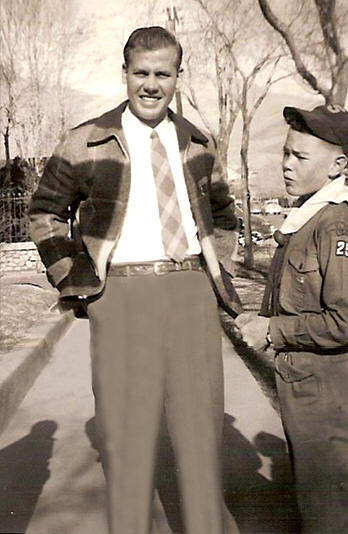 ...with Scoutmaster and future brother-in-law Bill Hintze, circa 1951
Dick Laughman: "Bill Hintze had a heart of gold. He was my scoutmaster (Troop 25 in El Paso), and helped me to become an eagle scout. Meanwhile he developed an interest in my older sister Barbara. They married upon her graduation from AHS, and went as missionaries to Costa Rica. When they returned home, Bill was elected President of Grand Canyon College in Phoenix. He died early at age 50 - his heart just gave out. Bill and my sister Barbara had 4 kids, Fred, Richard, Willie, and Robin. My wife Bev and I brought Robin to the 50th along with our daughter, Janie Medlen. Barbara is remarried and still lives in the Phoenix area."
Butch Quillin: "Dick, you bring back one of my earliest and fondest memories of a person I looked up to (that was easy, he was a big strapping guy), Bill Hintze. He was the the sweetest guy I knew as a kid, he had the warmest smile and such a gracious demeanor. I remember how much he and Barb were in love, and even for a little guy like me, that was so impressive! Bill was a great role model.
---
1948 - El Paso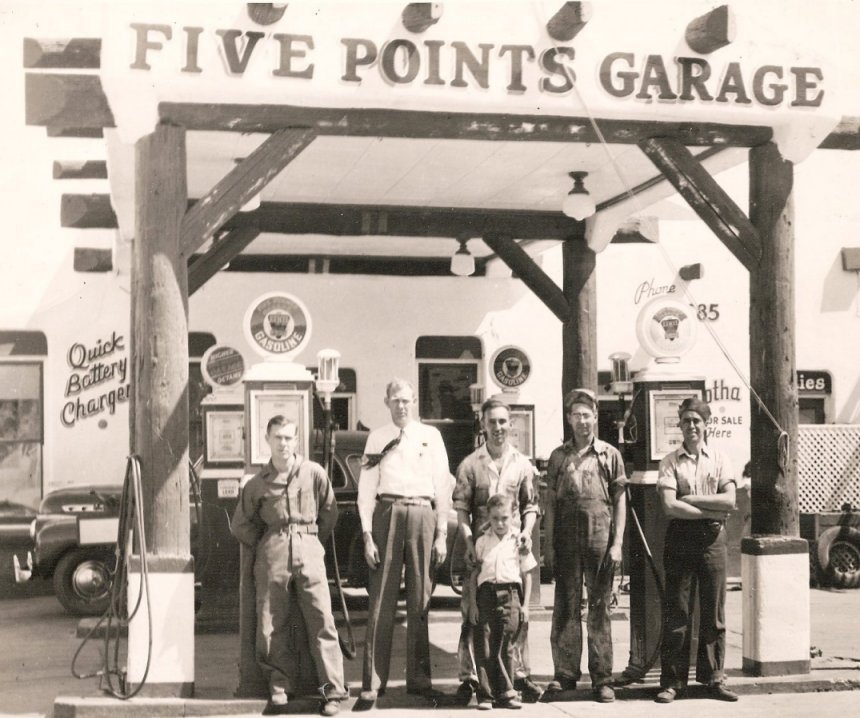 Clyde Hooten and his Dad, at Dad's Business

Clyde: Five Points Garage was located at Montana and Laurel, where I believe a Subway sandwich shop now sits. My dad and a partner named McNealy (white shirt and a tie) owned this 5 Points Garage location (there was another located at 5 points across from 5 Points Bowling Alley and Gillespie's Steak house.) Both Dad and McNealy had worked for Earl Brown Jr., at the original 5 Points Garage which later became Deal Motor Company. Why Dad and McNealy named their business the same when they left Earl Brown's place, I'll never quite understand. Milt's father was friends with both my dad and McNealy. That's me, the little kid, with my father's hands resting on my arm and shoulder.

---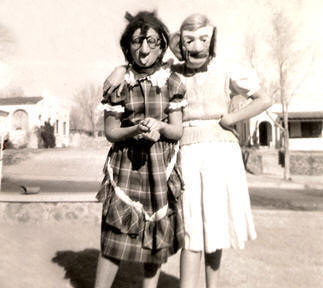 Judy Williams & Nancy Brown
---
Photos 1-2-3-4-5-6-7-8-9-10-11-12-12a-12b-12c-13-13a-13b-14-14a-14b-15-16-17-18-19-20-21