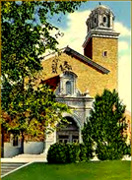 A bloc/block of rooms is reserved for us at the <![if !vml]>

<![endif]> (click for info) for this Friday & Saturday nights SEPTEMBER 29 & 30th at $74/night. If you're arriving earlier or staying later, call Melissa Arellano, 915 774-6940, we're listed as the Austin High 1956 Reunion, and Melissa will give you a Thursday 28th rate of $109 so hurry before these rooms are gone! The Marriott's even out of Senior rates for those nights (was $144) so get a move on or pay through la nariz.

The Marriott number is 1-800-228-9290 and their direct line is 1-915-779-3300. Make your own arrangements, . RESERVATIONS MUST BE MADE NOW to receive the special rates, we only have a certain number of rooms so don't delay and end up paying more than twice as much.
HOW TO REGISTER for the REUNION if you have not already done so:
The registration form was mailed in mid-July to everyone for whom we have addresses. If you didn't receive one or misplaced it, well now it's too late to mail the forms (link below) unless you live in El Paso, but for those flying in, you can download, fill out and turn in when you register Friday or Saturday night at the door. Or just show up with money, honey, and you'll be welcome without the registration forms.
To access the forms, OPEN the REGISTRATION FORM link below and PRINT, fill out and take the forms to Reunion with you, or mail if you can get them in on time. Questions should be addressed to Corinne Abeyta-Spinnler, CASGallery@elp.rr.com.
Click on pen icon ¢

for Registration Form, then
☼Print form (2 pages), fill out & mail to address indicated
-or-
☼Fill out form on your computer and email to Corinne at CASGallery@elp.rr.com
<![if !vml]>

<![endif]>
<![if !vml]>
<![endif]>
Hospitality Room location will be posted in the hotel lobby

<![if !vml]>

<![endif]>

Early morning Swim & Workout (hotel pool & exercise room)


8:30 a.m. - 12:30 - GOLF for Early Arrivals - Click for details:


Still room for another foursome! Email Malcolm 'Mike' Newbill,
MNewbill@aol.com, or call (817) 457-3649)

6:00 p.m. <![if !vml]>

<![endif]>- TENT PAVILION (behind Marriott)
Hors d'oeuvres/ Snacks, open Bar - Casual dress
Pick up your souvenir T-shirt & name badge & spend the evening auld lang syning.

7:30 p.m. or thereabouts: <![if !vml]>

<![endif]>

<![if !vml]>

<![endif]>
Our Austin Alumni Association is lighting the "A" for us,
FUNDED by a COOL GROUP OF GUYS FROM OUR CLASS, thank you!
Our best view might be from the Marriott parking lot, but wherever
our view, seeing the "A" ablaze once again will be a magnificent sight.
---

<![if !vml]>

<![endif]>

Early morning Swim & Workout (hotel pool & exercise room)



Breakfast in hotel restaurant for whoever's interested

Saturday Golf Tourney cancelled due to low response
(Hap Lamberth at h.r.lamberth@ieee.org)
---
<![if !vml]>

<![endif]>
<![if !vml]>

<![endif]>
10:00 a.m. - 3:00 - OUR CITY - EL PASO BUS TOUR
El Paso landmarks & old haunts, drive-bys of our elementary schools with photo ops, a wander through AHS to see the amazing expansion of our Alma Mater, a visit to the recently reopened, magnificently restored Plaza Theater, then lunch in an El Paso-style (inimitable) Mexican food restaurant [cost not included in tour fee], followed by a look at the much-expanded and beautiful UTEP campus. ¡C'mon, Homey!

10:30 a.m. - 3:30 - OLD MESILLA, N.M. BUS TOUR/VISIT
Click here for info:
Go back in time to this historic town established in 1535. See the quaint plaza where the Gadsden Purchase was signed in 1854, and the old adobe Catholic Church of San Albino. Browse through specialty shops, fine art galleries and boutiques that occupy adobe buildings that were the stomping grounds of Billy the Kid, Kit Carson, and other historical characters. Enjoy lunch on your own at one of the charming restaurants or brown-bag it and have a picnic in the plaza. Return to El Paso through the picturesque Mesilla Valley, including a stop at Stahmann Farms Gift Shop. The tour will also include a visit to AHS.
Independent Activities, Get a Group Together


Hike to the "A" (followed by Ambulance to the Hospital)


AHS Tour (open for visits all Saturday afternoon)



6:00 p.m. - <![if !vml]>

<![endif]> <![if !vml]>

<![endif]>
Dinner & Dance in Salon F (Dressy/Casual)
6:00 - 7:00 - Cocktails
7:00 - Buffet (click for menu)
8:00 - Music & dancing to cool '50s sounds, oh maaan!
---

<![if !vml]>

<![endif]>



9:00 a.m. - 11:00: <![if !vml]>
<![endif]>
Meet in the Red Rim Bistro at the Marriott
No reservations needed, pay on your own
---
<![if !vml]>

<![endif]>
To email Reunion photos for publishing on this website, send to OhAHS@aol.com. Every picture can't be published but the best/worst/funniest/weirdest will be included in our many new pages of Reunion photos -- appearing soon in computers near you!
---
¡Last chance for a Reunion till 2016!


Questions or suggestions? Email: OhAHS@aol.com)

Reunion Attendees