PART 2: Death at the River of Lost Souls in Purgatory - An uncommon end, an uncommon man and a set of very uncommon circumstances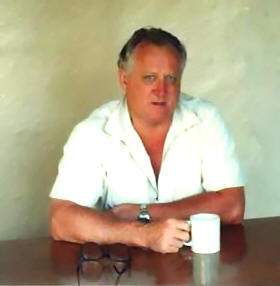 Jim Tatum at his ranch, circa 1991


Ann Tatum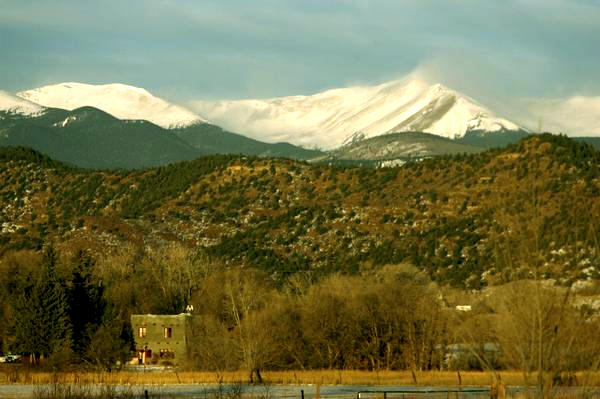 To some people in Trinidad, Jim and Ann Tatum weren't exactly a paradigm of marital bliss. "If they weren't screaming and yelling at each other, they weren't communicating," said one local, commenting on their high-decibel arguments.
"I heard him belittle her in restaurants, primarily when he was drinking," said Trinidad native Carol Cometto. "He'd call her 'stupid b----' a lot. He could be pretty nasty to her."
Although some friends claim not to know of any churning rifts in the marriage, others do. They speak of separations, of Ann heading to Texas - alone - for extended periods of time. Ann's coming and goings aside, some of those who claim to have heard the verbal bouts insist that Ann Tatum is no shrinking violet. "With that mouth, she could push anybody's buttons," offered one woman. "I guess any man would get abusive if he had to listen to that mouth."
Although Jim Tatum's alleged trysts with other women in town likely contributed to a volatile atmosphere, many eruptions centered on money. As one person put it, "When the money flow was good, things were OK. When the flow stopped, they'd fight." Once, when one local lawyer remarked on Tatum's increased caseload, he replied glumly, "Ann wants more money."
By most accounts, Ann Tatum had expensive tastes. It was not unusual for her to boast of trips to Paris to update her wardrobe. Sometimes she made more unusual boasts. According to one former employee, Ann spoke about the time Jim came home with a huge amount of cash - "I don't know, she said it was $500,000, $750,000, something like that" - and scattered it on their bed. "Ann told me she took off her clothes and laid down in it because she wanted to bathe in it 'before it got dirty.' "
But money couldn't wash away the stain of violence. Although dark rumors of domestic abuse loomed in Trinidad, not much in the way of official documentation exists. As far as anyone seems to know, the only time anything was noted occurred on April 10, 2004.
According to an incident report, at about 1 a.m. two deputy sheriffs were dispatched to Solitario to look into a report of a "disturbance." The call was made by Deputy Sheriff John Martinez. The report isn't clear on whether Martinez was actually at the ranch house. When the deputies arrived, they were met by Ann Tatum, who was bleeding from a cut to her scalp. She told the officers that her husband and a ranch hand identified only as "Rick" were involved in a "verbal argument." When Ann tried to break it up, she "fell" and cut herself. She, her husband and Rick all told the same story. All denied there had been any domestic violence. Six days later, Ann Tatum was questioned again. Again, she denied there had been domestic violence. No charges were filed.
At least that's what the sheriff's department said, meanwhile refusing to release the incident report. Instead, Sgt. Reynaldo Santistevan summarized the contents.
But Kenneth Haynes didn't need a report to verify what his eyes witnessed. "I've seen her (Ann Tatum) with her eyes busted up - black eyes, yeah. Nose all twisted; looked like it might have been broken. Bruises on her arms. She was what you'd call a battered wife," said Haynes, staring at his cup of coffee. Then, "What I could never understand was why she would keep coming back."
One of Jim Tatum's motives for staying together was clear to the friend who said, "He told me a divorce would cost him millions."
Although some speculated that Ann's motives for remaining with Jim despite the abuse also were linked to money, others pointed to another reason. "Ann told me, 'Loving someone this much shouldn't hurt so bad,' " said a friend. "There is no doubt in my mind she loved that man."
Perhaps to death.
On Nov. 29, about 8 p.m., a call came in to the Las Animas County sheriff of a "domestic disturbance in progress with possible weapons involved" at 12630 Colorado 12. The person who made the call was Deputy Sheriff Martinez, a confirmed house guest at Solitario. While en route, deputies learned shots had been fired and "the male party involved was possibly deceased."
It took them about a half-hour to reach Solitario. There, they found blood - and Jim Tatum's body - in the kitchen. They also found Martinez, who told them he had witnessed what happened.
According to the arrest affidavit, the Tatums were in the kitchen when Jim "suddenly became belligerent with Ann. Ann asked James to be civil at which time James walked over to Ann's location in the kitchen and slapped her in the face."
Hearing this, Martinez left his bedroom and saw "James . . . hit Ann Tatum in the ribs" and grab her by the hair. When he (Martinez) intervened, he was pushed and struck his head, "dazing him momentarily."
Ann broke free of her husband's grasp, crossed a distance of "about eight feet and pulled a revolver from her purse then turned toward James Tatum and began to fire several times."
Wounded, Jim Tatum fell down with a "grunting noise." He then got up and moved for another pistol that was sitting on a counter. He pulled the gun from its holster "at which time Ann also grabbed the revolver pulling it from James and turning the gun at James and firing the weapon."
A deputy who later accompanied Ann Tatum to the emergency room reported she made a "spontaneous statement . . . that she did shoot James again and again."
Also in the affidavit is a notation made by Undersheriff Derek Navarette that Ann "could have continued to flee through a doorway."
Although it seemed like a fairly cut- and-dried incident, as was often the case with Jim Tatum's life, there were swirling currents. First, there was the fact that twice in three years, John Martinez had been the one to call in a disturbance at the Tatums' house.
That Martinez was a house guest was, on the surface, not surprising, given the Tatums' history of taking in people. But the fact that Martinez's wife was Ales Graeff, and they were in the process of divorcing, and Graeff had been Tatum's secretary, and Jim Tatum had reportedly told several people that he had paid for her nursing school education raised some eyebrows.
Another curious footnote was that after the shooting, Ann Tatum was placed under detention by the sheriff and registered in a motel. A warrant for second-degree murder was not issued until 11:10 p.m. Nov. 30 - more than 24 hours after Jim Tatum's death. Ann Tatum finally was arrested an hour later, at 12:15 a.m.
Asked about the delay, Sheriff James Casias deflected questions to the Colorado Bureau of Investigation. When contacted, CBI Agent Marc Micciche said, "I have no information that I can share with you, as this is an ongoing investigation."
Still, according to Las Animas County District Attorney Lee Hawke - who recused himself from the case - a 24-hour lag in arresting someone who had already admitted to a shooting "is unusual."
Ann Tatum's bail was set at $175,000 - curiously, cash only - but she didn't stay in jail long. On Dec. 5, bail was paid by her father, Robert Fechtel. Prior to meeting bail, she had hired prominent Denver attorney Pamela Mackey to represent her. Mackey successfully defended professional basketball star Kobe Bryant in his 2004 rape case in Eagle County.
The next step in the case against Ann Tatum is scheduled for 10 a.m. on Jan. 11, when prosecutor Rodney Fouracre, the district attorney of nearby Otero County, files formal charges in the Las Animas County Courthouse - the same building where County Attorney Jim Tatum once had an office.
Between now and Jan. 11 - and probably longer - opinions and gossip will continue to bubble. Most of the talk will be off the record. Trinidad is a small town, and people don't want to risk censure by their neighbors for talking out loud to strangers. There is also the fact that, as one man who knew both the Tatums well said, "Hey, man, this is a murder case."
But not talking on the record isn't the same as not talking.
There is, for instance, anger: "The consensus around here is, 'If it was one of my daughters that got beat like that, she wouldn't have had to take care of it. I'd have done it myself.' "
There is conflict: "Part of me goes, 'How could she do that to him?' And part of me goes, 'She wouldn't have shot him just because she was mad, would she?' "
There is resignation: "I was shocked by the shooting, but not really surprised that something happened. You could see something coming for a long time."
What a lot of people didn't see coming was Ann Tatum arranging and attending her husband's memorial service, a service that was attended by not one of his blood children.
As such affairs go, it was low-key. A few stories, a few more tears, some poems and some songs, including a country- western number called Common Man. Which was kind of ironic considering that very little about Jim Tatum - the way he lived, the way he died - was common.
But it figured that there would be ironies clinging to Jim Tatum right to the end. That there would be inconsistencies in his Texas-sized folklore. Loose threads that twist and meander across the landscape, like onrushing tributaries of the River of Lost Souls in Purgatory.
_________________________________________________________________________________________
---
Previous Articles/Photos/Comments:
Death at the River of Lost Souls: Folklore of Jim Tatum, a larger-than-life Texan, flourishes in Colo. as suspicions swirl around wife
Saturday, December 22, 2007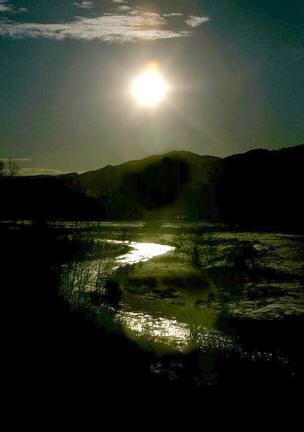 El Rio de Las Animas Perdidas en Purgatorio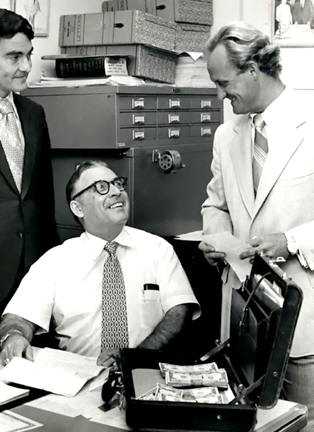 Attorney-bondsman Jim Tatum, right, pays off a backlog
in forfeited bonds to sheriff's Capt. J.L. King in Texas.
PART ONE OF A TWO-PART SERIES
TRINIDAD - It was a cold, raw day - temperature barely flirting with 30, gray sky not sure if it wanted to spit snow or freezing rain - when 60 people gathered on Main Street to say goodbye to a man who was part legend, part gunslinger, part SOB and 100 percent Texan.
In a way, it was surprising that the chapel at the Mullare-Murphy Funeral Home wasn't even half-full for Jim Tatum, a guy who "always thought he was 10-feet tall and bulletproof." Then again, maybe it wasn't surprising. For in the 24 years that Tatum had swaggered, blustered, charmed and just-plain made his presence felt in Las Animas County, he had generated friends and enemies as effortlessly as most people blink.
"I bet a lot of people would go to a funeral for him just to make sure the SOB is finally dead," said one longtime resident who didn't show up to the memorial service and didn't like Tatum.
The man didn't much care for Ann Tatum, either. That was Ann over there, in the front row of the chapel, gazing at the easel adorned with Jim's cowboy hat and spurs, sometimes softly weeping, head resting on her son's shoulder. For those of you who aren't from Trinidad, Ann was Jim's wife, now his widow, and - if the charges stick - his killer.
Of course, the trial is a long way off, probably a year or so. The murder charge hasn't even been formerly entered, even though, according to the sheriff's arrest affidavit, Ann Tatum told a deputy that on Nov. 29, in the kitchen of their home, she shot at her husband "again and again."
Six times. With two different guns.
With so much time to go before a trial, the vacuum has been filled with speculation and gossip, with old rumors of infidelity and violence. And joining the gossip and the rumors is the folklore of Jim Tatum, a folklore he helped create and artfully embellished. A folklore of a lawyer, ladies man, hunter and rancher. A folklore that sashays across 68 years, between Texas and Colorado. A folklore as sinuous as the river that flows through his ranch, the river they call El Rio de Las Animas Perdidas en Purgatorio - the River of Lost Souls in Purgatory.
Wherever Jim Tatum's soul resides - and its precise location is a subject of vast dispute among those who knew him - his ashes are back in Texas. What remains in Colorado is his myth. But even that has started to crack a little.
After all, if there's one thing we know for sure about Jim Tatum it's this: In the end, he was not bulletproof.
It wasn't like Trinidad was a virgin when it came to characters. At one time or another, Bat Masterson, Wyatt Earp, Doc Holliday - even Al Capone - had resided in Las Animas County. Still, even some of the area's more jaded citizens had to scratch their heads when Jim and Ann Tatum rolled into town in 1983.
Physically, you couldn't overlook Jim: 6-1, maybe 6-2, broad shoulders, an easy 240 pounds, sharp blue eyes, granite jaw, still traces of the rugged good looks that led one friend to liken him to Kirk Douglas.
For her part, Ann was nothing to sneeze at either: a 5-foot-8 blue-eyed blonde, easy on the eyes, always dressed sleek and stylish.
But there were other reasons you couldn't miss the couple.
It wasn't rare to see them out and about, decked out in cowboy hats and chaps, spurs jangling, six-guns nestled in holsters, "strutting around," to one local's way of thinking, "like they owned the world. They were bossy, too, always wanting something. And not just right now, but five minutes ago."
Of course, truth be told, most anybody from Texas arrived in Las Animas County with two strikes against him.
"People here have always had a hard time with Texans," said native Brian Mondragon. "For some people, it didn't matter how good a person you were - and I think Ann and Jim are wonderful people - if you were a Texan, you weren't worth s---. I've seen bumper stickers like, 'It's hunting season, shoot a Texan.' "
Not that any of this seemed to bother Jim Tatum.
"Oh, he was a Texan through and through," is how Raymond Mondragon, Brian's father, saw it. "And proud of it."
But Tatum wasn't just a Texan, he was, said a native, "a real cowboy, a Wild West guy, a throwback to another time." Added another, "He was all bluster and bravado."
Take those big cigars of his. You hardly ever saw him without one jammed between his teeth. Sometimes he'd be smoking it, sometimes not. Just have it jutting out of his mouth, like it was his own portable headline.
The cigar was only part of the gunslinger package. His clothes were another. Sure, lots of lawyers wore cowboy boots to court, but Tatum went them one better. You'd never see him without his hat, his jeans, his tan leather jacket. A tie? Not likely, partner.
To a lot of people, Tatum's cigar, his outfits were just ways to get him noticed. Apparently, it was important to him to be noticed. Didn't matter if the room held one person or 20, Tatum had to be the center of attention. You sat down, he'd stand up. You showed up on time, he'd be late.
But it wasn't just the attention.
"He tried to be imposing, he tried to intimidate you with his size," is how one man put it. Even when he sat down, he had this way about him - casual but emphatic. Like how he would plop down in a chair in your office and prop his boots up on your desk. It wasn't unusual for those boots to have spurs attached. Kind of like he was leaving his mark.
He could be cordial and good-old-boy you to death, but more often than not he was loud - "adamant, he didn't care what people thought about him" is how local attorney Nancy Lake put it. You could disagree with him, but only at your own peril.
"If you thought you knew something, and he thought another way, he'd fight you to the last ditch," said Robert Parsons, an 89-year-old rancher who had numerous dealings with Tatum.
Contentiousness was part of his DNA. During his stormy two-year tenure as Las Animas county attorney from 2001 to 2003, Tatum was frequently embroiled in sharp disagreements with the county commissioners.
According to one county insider, Tatum's style showed guts. "Jim simply would not tell the commissioners what they wanted to hear; he was brutally honest."
But others say Tatum's idea of truth wasn't always so pristine.
More than that, when confronted he could turn combative. During one heated meeting, he challenged commissioner Robert Valdez to a fistfight, an odd thing to do since Tatum worked for the commissioners. Not that anybody in Texas would have found that behavior unusual.
"He was a talented trial lawyer because he had absolutely no fear of any man or beast, but he was also mean and crazy," said Dick DeGuerin, the lawyer for Tatum's first wife in their divorce. "He'd fight at the drop of a hat."
In September 2003, to no one's surprise, Tatum's contract was not renewed. He claimed he'd been fired, but county administrator Bill Cordova told the Pueblo Chieftain, "He was not fired or terminated, we just couldn't reach terms on a new contract."
In truth, it wasn't just about money. Although he made more than $70,000 in salary and perks from the county, Tatum insisted on using his office in the courthouse to conduct his lucrative private law practice, which annoyed the commissioners who were already fed up with his combative style. They rescinded his free office, angering Tatum. And he was not a man to suffer in silence.
There was also the matter of Tatum's secretary, Ales Graeff. When Graeff requested permission to attend classes at a local junior college during office hours, the commissioners refused. Tatum gave her permission to attend the classes anyway.
Of Tatum's departure, one county insider would say, "It was his demeanor, his persona. If something wasn't done his way, he'd find reasons to oppose it. He was belligerent." His exit brought a feeling of "relief."
Tatum's legal modus operandi caused him grief with the courts on at least three occasions for threatening to file a grievance against a judge if he didn't issue a continuance, co-mingling a client's business funds with his own funds, and misconduct in a water case. Twice - Colorado in 2006, Texas in 2007 - his license was suspended for three months.
Again, his dust-ups with the court system weren't stop-the-presses news in Texas.
"Jim Tatum was an anachronism," said Houston attorney and friend Ted Hirtz. "He had this macho attitude, almost as if he were a Viking taking on modern civilization . . . . He adopted the persona of the toughest hombre on the block and that no one should mess with him."
The toughest hombre on the block liked hanging with some pretty rough customers in Texas.
Said DeGuerin: Tatum "ran with some really rough, known criminals. Toward the last of his time in Houston, he was running with a crowd with a known hit-man and some other pretty disreputable people. He was really a dangerous person."
Neither was he secretive about his clients. During the many years he moved between Texas and Colorado, Tatum would occasionally bring them to Solitario, his ranch near Trinidad.
"He told me a lot of his clients were drug cases," said Kenneth Haynes who, along with his wife, Beverly, lived at Solitario when both worked for the Tatums. "They were mean-looking guys."
That Tatum would meet with a violent end didn't surprise many people. That he would meet with a violent end allegedly at the hands of his spouse wasn't shocking, either. After all, Tatum's first wife put a bullet in him.
James Eddie Tatum was born Jan. 9, 1939, in Graham, Texas, although he mostly grew up in El Paso. As a teen he was, according to remarks read at his memorial service, mostly interested in "hot rods, horses, guns and girls."
His love of fast cars was so strong that his first career choice was to race them. For a time, he and his father ran a hot-rod shop, although W.H. Tatum's main business was overseeing his string of condom vending machines - samples of which would be in great supply at Solitario. Eventually, he steered his son away from racing. After graduating from the University of Texas, Jim earned a degree from the South Texas College of Law in 1966.
He quickly became a colorful icon in Houston courts, known for impassioned defenses of drug dealers, tax protesters and - in one juicy case - a topless dancer. Here, his strategy hinged on the woman performing in court, to show that her dances weren't lewd.
DeGuerin said Tatum "knew the judge was an irascible guy who would enjoy seeing some girl shake her t--- at him."
Sometimes, it seemed, he generated as much litigation as he handled. Tatum, said Hirtz, "got into a dispute with almost every business dealing he went into - land deals, cattle deals, everything he was involved in."
His litigious side wouldn't diminish in Colorado. Over the years, Tatum was no stranger to the plaintiff's role in court, suing Las Animas County over road access on his property, as well as a mining company - more than once - for damages to his home. He mostly won, too.
Away from court, Tatum was a notorious ladies man, which wouldn't have been a problem if he hadn't been married and the father of eight children, seven with Liz, his wife whom he married in 1961. Tragically, in 1973, their 15-month-old son, Greg, accidentally drowned in a pool.
Some said Jim blamed Liz. Never forgave her. Never got over the boy's death. The marriage went into free fall. There were his affairs, his hard drinking. There were, by many accounts, his violent attacks on Liz. Attacks on his daughters - like the time he hit Sheryl, 16, and broke her rib, finger and ear drum.
It all came to a head April 6, 1981. Liz and Jim were divorcing. She was tired of the beatings, tired of his philandering. He was livid at the affair she was having.
Jim had been drinking and, as Liz would testify, he called her a "whore and a slut."
She slapped him. He kicked her out of the bed, knocking her to the floor. She ran to the den where a gun was kept - guns were all over the house; "more guns than a gun store," said one friend. She loaded it. Returned to the bedroom. Cocked it.
"Go ahead and shoot me," he shouted, cursing at her from bed.
She did. Right in the chest, near the heart, with a .22 Magnum.
The shooting would become one of the fundamental tenets of Tatum's folklore, a story he told over and over, sometimes enlarging the bullet to a .357 Magnum, sometimes concluding his tale with the boast, "There isn't a bullet tough enough to kill me."
Apparently, there wasn't sufficient cause to try Liz for a crime. The case went to the grand jury, which declined to file charges.
During the bitter custody hearing that followed, the Tatum girls sided with their mother, backing her stories of violence with tales of their own. According to Jackie, 14, her father was "violent and mean. He's scary. He's really big. He threatens to break your arm, knock out your teeth. He grabs me by the throat. He terrifies me."
The court's psychiatrist believed them. His report said Tatum had a "moderately serious" narcissistic character disorder, concluding, "Mr. Tatum is an extremely aggressive, very forceful and very intimidating man," unable to control his anger.
With Liz in the rear-view mirror, Tatum began dating a divorcee named Ann Fechtel Neville, who he married in August 1983. That same year, he bought land in Weston on Colorado 12, about 27 miles from Trinidad, "up the river," is how locals put it. Although their primary residence would remain Houston for two decades - many people remember them in Colorado only about three months a year - their ties to this state would grow thick as rope.
Tatum's cowboy soul was nourished at Solitario. He loved raising cattle, loved his horses, loved his 20-odd dogs that barked up a storm from their kennel. "My alarm clocks," he'd call them.
As much as he loved raising animals, Tatum savored shooting them even more. A zealous hunter, he went on safaris in Africa; the walls of his home and office were festooned with heads of exotic game like lion and water buffalo. Not that he wasn't happy with more prosaic prey like deer, elk and coyote, frequently hiring Brian Mondragon to guide the hunts he arranged for himself and the friends he invited up from Texas.
Oddly, Mondragon wouldn't have any stories of Tatum not paying him, making him something of a rarity in Las Animas County. For, as Parsons would say, "Jim Tatum was a man who wouldn't keep his word."
There was, for instance, the time Parsons agreed to harvest and bale hay on Solitario. In return, Parsons was to receive some of the hay plus grazing rights for his own cattle. Only that wasn't how Tatum remembered the deal when it came time to settle up.
Haynes knew all about that side of Tatum. He'd be working at Solitario, seeing his boss when he came up, usually during haying season. "He'd tell you what a good job you'd done. Give you a bonus. But then there'd be no paycheck for three months."
It wasn't just the hired hands who had issues with the Tatums. One local merchant was forever butting heads with them over unpaid bills, sending and resending invoices that went ignored. Finally, the exasperated merchant asked Ann what she intended to do about the debt. The reply? "Sometimes you just have to bend over and take it."
Not that there weren't personal kindnesses. The Tatums were known for taking in strays - and not just the four-legged kind. Folks down on their luck had a good chance of finding a bed at Solitario, even if it meant lending a hand with ranch tasks.
Then there was that time in 2004. Nadine Mondragon had long been suffering from severe abdominal pain that baffled local doctors. Hearing of this, the Tatums took Nadine and her husband, Raymond, to Houston.
"They put us up at their house and made all the arrangements for us to see doctors at the Houston Medical Center. We stayed for three weeks. That's the kind of people they were," said Raymond, tearing up at the memory.
To many, Ann Tatum was a force, a woman who was, said a friend, "one of those people who just makes the party."
According to Dick Makloski, who ran a car repair shop, Ann was a "a go-getter. She's the kind of person who's dealing with the day after tomorrow; really getting after it."
Maybe a little too much.
"She could be awful graspy," said Parsons. "When she wanted things, she wanted 'em now."
Ann Tatum became a candidate for county commissioner in 2004 - the year after Jim had been let go as county attorney. She made a spirited run, too, becoming the first candidate ever to open a campaign headquarters, proving to be very serious about winning.
Former District Attorney Frank Ruybalid said, "Anne asked me a lot of questions about funding and budget issues. It really impressed me how she tried to educate herself."
Despite losing, Ann Tatum was apparently undaunted. Several people, including current DA and family friend Lee Hawke, heard "she was planning to run for commissioner again."
But where friends saw a spirited, aggressive go-getter, others saw someone else.
"If she could make you feel two inches tall she'd do it," said Beverly Haynes, more than once the target of Ann's caustic tongue.
Others described her as vulgar, someone who "when it came to cursing could make most of your sailors, Army, Air Force and Marines look like timid kids."
Like her or not, few people were inclined to underestimate her. As Makloski said, with more than a trace of admiration in his voice, "One thing about Ann - she's not afraid to look the devil in the eye."
As it turned out, there may have been times when it seemed that the devil was the man she married.
---
Slain attorney was shot at by first wife too
Incident occurred when Jim Tatum was high-profile trial lawyer in Houston
By Sue Lindsay, Rocky Mountain News - December 6, 2007

Trinidad lawyer Jim Tatum was gunned down in his kitchen by his wife, according to a Las Animas county deputy who witnessed the shooting.
But, by all accounts, this isn't the first time Tatum was shot at by a spouse.
Tatum's current wife Ann, 57, was arrested in his murder last Thursday on a charge of second-degree murder. She was released Wednesday afternoon after her father posted a $175,000 cash bond, according to court records.
In the early 1980s, Jim Tatum's first-wife, Elizabeth, grabbed a .22 from the nightstand in their bedroom and shot Tatum, who ran out of the house naked to a neighbor's house for help, said Dick DeGuerin, the Houston lawyer who represented Elizabeth Tatum in the divorce.
"His death is 27 years overdue," DeGuerin said. "He was slapping her around and she reached for a gun. Unfortunately, she got a .22 instead of the 9 mm next to it."
Tatum was shot in the forearm and the bullet exited the back of his upper arm, DeGuerin said.
"He ran away, thinking she might take another shot," he said. "He ran down the street naked to a neighbor's house and called police. By the time they got there, Liz had left."
DeGuerin said he can't remember what, if any, charges were filed against Liz Tatum, but thinks "we kept her from being charged." If a charge was filed, the case was ultimately dismissed, he said.
Tatum was representing himself in the divorce and showed up a few days after the shooting with a bandage on his arm for a deposition of his ex-wife's alleged lover.
"In the deposition, he kept pulling out this lock-blade knife, about 4 inches long, opening it up and cleaning his fingernails with it as if he was going to cut my throat," DeGuerin said.
Elizabeth Tatum, through her family, has declined to be interviewed.
The shooting incident is described in the book Sleeping with the Devil, a 1991 account of a Houston murder in which Tatum is mentioned as serving as a lawyer for some of those involved.
As author and lawyer Suzanne Finstad describes it, Tatum had recently filed for divorce from his then-wife, Elizabeth, and was asleep in bed when she "picked up a .22 revolver, pointed it at him, fired and missed."
Tatum "leaped out of bed and ran down the street, naked, screaming for help," Finstad wrote.
The book describes Tatum as a "criminal lawyer with a major reputation in Houston" in the 1980s. Finstad said he was referred to as "the cowboy of the legal profession." She said he wore cowboy boots to court "with his blazers and shirt boldly unbuttoned to reveal a muscled, machismo chest."
DeGuerin says that lots of attorneys in the West wear cowboy boots, but he recalls Tatum showing up for a deposition wearing jeans and spurs.
Tatum had a free-wheeling reputation as a lawyer.
"He was a talented trial lawyer because he had absolutely no fear of any man or beast, but he was also mean and crazy," DeGuerin said. "He'd fight at the drop of a hat. He was always armed and he ran with some really rough, known criminals. He often had a .45 stuck in his belt."
Tatum told a number of his friends about the shooting, although in their accounts, he was shot in the chest, the buttocks or other parts of his body.
Jobeth Hines, who knew Ann and Jim Tatum in Houston, said Tatum told her that his wife had chased him with a shotgun as he ran naked down the road and shot him in the buttocks.
She said Tatum told her about this while she and her husband were contemplating a divorce in 1995.
"He advised us not to get a divorce because we made too much money," she said.
When Hines told Tatum that her husband would have to give up his girlfriend, she said Tatum replied, "Oh, honey, this is Texas. You can't make a man give up his girlfriend."
He said, "My wife and I were married 22 years before she shot me." He laughed it off like it was a big joke, Hines said.
"He was the kind of a guy that would drive a woman crazy like that," she said.
Mary Heafner, another Houston friend and lawyer, said she visited Tatum in the hospital after the shooting.
"Jim was standing in front of Liz naked and she came in with a gun and threatened to shoot him," Heafner said. "Jim told her to go ahead and shoot and she did. He went to a neighbor's house for help, and fortunately for him, she missed all his vital organs.
"Ann is a better shot than Liz was," Heafner said. "I went to see him in the hospital and he said that he guessed that he was 'now certified bulletproof.' Apparently that was not the case. He was a wonderful and fascinating man who did not deserve to be gunned down by Ann."
Hines said she was sorry to hear about Tatum's death.
"He was a pretty colorful character," she said. "It's a shame. I really liked him a lot.
"He was just a typical Texas kind of guy, a hard-drinking two-fisted guy. There are a lot of them down here. He made his own rules."