The Panther mascot was adopted by the student body of Austin Junior High School during the 1928-1929 school year, suggested by Ed Dale and a group of fellow students. After a vigorous campaign, an election was held and the Golden Panther was chosen by the majority of students, all other proposed mascots rejected.
Henry

Henry is the brass panther that was given to Austin High School by the class of 1955. He's been guarding the main entrance since, and is a central figure on our campus, Exes who return still remember telling friends, "Meet me at the Panther!" Henry cage is now a heavy plastic to safeguard him and to deter tarnishing; in the past he was polished annually prior to Homecoming, but since he's been in his protective plastic case, Henry hasn't needed to be polished as often.
Howard Hoffman helped create the panther and this is his story. "Jim Goodman and I were students at Texas Western College (now known as UTEP) when we were contacted by the Austin High School PTA, who'd seen some of our local art projects, asking us to make a panther for the school.
"This was 1955. We made the panther in Vet Village, a housing area on campus where we lived. The museum on campus had a room filled with mounted animals, and this collection was a great help in providing up-close information on their appearance and movements. By the time the work on the panther was finished it was time for me to start my teaching career (I had done practice teaching at Austin High School with the art teacher). I wasn't able to go to the foundry while the panther was being cast. The next time I saw the panther was in the hall in Austin High School."


Elroy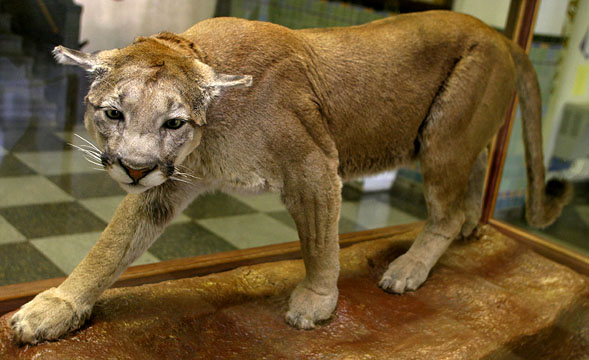 In 1998, Mr. Gary Mowad, a special agent for the United States Fish and Wildlife Service and former Austin teacher, approached the student activities director at Austin High School about a panther that had been seized. The case involved a big game guide in western Colorado who was charged with three violations of federal law. The charges resulted from unlawful hunting practices that violated the principles of fair chase. This panther was killed at night with the aid of a spotlight in violation of Colorado law. The unethical hunter was convicted of the violation and was sentenced to four months incarceration.
After waiting several years for the court case to be settled, the panther was finally free of litigation in September 0f 2002. Since the panther was in Harrisburg, Pennsylvania, a trucking firm had to be found to transport it to El Paso. This process took a year. But on August 13, 2003, the beautiful 200 lb. Panther, which is mounted on rocks, finally arrived at Austin High School.
Six months later, housed in a new case, the Austin High School Alumni Association presented this spectacular animal to Austin High School. The presentation was made to Austin High School faculty, staff, students, and community on January 7, 2004. The dedication was broadcast live on KVIA News. It is currently on display in the main school entrance.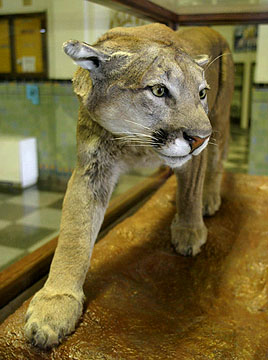 Elroy



AHS1956.com wishes to thank the following people for the AHS Panthers:
Gary Mowad for remembering Austin High School.
Special Agent Bill Anderson in Harrisburg, PA for helping to coordinate crating and shipping with Hill Rigging and Storage.
Yellow Transporation Co. for delivering the panther to Austin undamaged.
AHS Principal Cheryll Felder, for her support and enthusiasm.
Carl Davis for donating his time and craftsmanship in the design and construction of the beautiful case that will protect our panther.