William H. Hancammon III, age 67, a resident of Florida, born and raised in Wilmington NC, passed away peacefully on Sunday, October 15, 2006, from leukemia.
Bill was born on March 22, 1939, in Wilmington NC, son of the late William H. Hancammon, Jr. and Kathryn Loughlin Hancammon.
Bill attended Austin High School and after graduation in 1957, earned a B.A. from Duke University in 1961. Following a stint in the Army, Bill went to work for K-Mart in the management training program in Florida, where he met and married his wife of 43 years, Gail. With K-Mart he traveled to Louisiana, Texas, Washington DC, Maryland, Atlanta and Florida, where he retired. In addition to a passion for travel, he loved to read, but spending time with his family was the most important thing in his life. He was a devoted and caring husband, father, brother, uncle, and grandfather.
Bill is survived by his loving and devoted wife Gail, his two daughters Kelly Lynn Hancammon and Kimberly Dawn Thomas, son-in-law Christopher Thomas, his two granddaughters Madison Lynn and Skyler Anne Thomas, his brother Joseph Hancammon, sister-in-law Barbara Hancammon, many nieces and nephews, and Jack and Marjorie Loughlin, his aunt and uncle.
A celebration of life ceremony was held at Andrews Mortuary Market Street Chapel on Wednesday, October 18, 2006, at 11:00 a.m.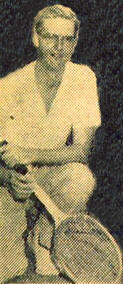 Bill during AHS years
| | |
| --- | --- |
| Bill (right, eyes closed) with Mother & little brother Joe, 1943 | Bill (standing), brother Joe, cousins & family, 1948 |