Rock Creek, Montana - Sunday, August 15, 2010

Donna Spearman died peacefully in her sleep at home, on Saturday, Augist 14, 2010. She was 71.
She was born in El Paso, Texas, to Maurice Spearman, a physician, and Malvina Spearman, an artist and musician.
Donna is survived by her daughter Shannon, her sister Jacqueline Curtis and Jacqueline's children, Fritz and Marry Ann.
Donna received her bachelor's degree in English from the University of Texas at Austin, where she met and married Cabral Reese. She was widowed soon after. She later married Richard Pierce of El Paso. They had one child, Shannon, who lives in Tucson, Ariz. As a divorcee, she moved to Missoula, and received her special education endorsement from the University of Montana. She began teaching in alternative education for high school students in Missoula, first at Project 100, which evolved into the DALC (District Alternative Learning Center), and later into Willard Alternative High School. This was her 34th year with Missoula Public Schools.
As a high school teacher, Donna gave her heart and soul to the students she taught in the different alternative school settings. She was a teacher of literature, of poetry and of life. Donna was counselor, confidante and an unrelenting advocate of her students. As a devoted alternative education teacher, she contributed enormous energy, creativity and understanding to how alternative education truly works for students. Donna's greatest gift was her connection to her students. At her current position as English teacher at Willard Alternative High School, it says it all that she was known as "Mama Donna." She loved her kids.
Donna had many passions. Living on the state-protected Rock Creek gave her a profound connection to the incredible Montana outdoors, in all its splendor and wildness. There were summers that she was prepared to escape, barely ahead of the fires. Wildlife of all sorts visited her regularly, and she kept her genuine respect and admiration of the incredible sanctuary entrusted to her. Donna's generous nature compelled her to set up a Land Trust so that Montanans will always be able to share her Rock Creek view. Donna adored her flowers, sports of all kinds, reading and had a genuine interest in the many students and people who touched her life, and she, theirs. She will be dearly missed.
Cremation services were provided by Garden City Funeral Home, (406) 543-4190. No services will be held at this time, although a memorial will be held in Missoula this coming Spring. Please contact mdmt2010@me.com for further information
Suggested memorial donations may be made to the Missoula County Humane Society or to the Willard Alternative High School scholarship fund.
---

Our family moved to El Paso in 1948. In 1949 I met Donna Spearman in church. We hit it off and had fun together from the start. Sometimes we would sit together.

In high school our friendship continued through graduation. When Donna went off to College.....TU.......I didn't see her all that much. However, when she graduated we picked up the friendship and had some zany times together. We sure had fun times for almost a couple of years.

In 1960 I fell heavily in love with a Jewish girl, but Donna and I still remained good friends. In 1962 I took a summer job in Los Angeles . It was during that time period Donna was hit with a real tragedy at the Hilton Inn Airport. Upon hearing of this my heart broke for her.
Donna later married a man I knew and moved to San Diego. The marriage ended in divorce then Donna and her baby daughter moved to Missoula, Montana.

During the next decade or two, thinking of Donna was commonplace. One day I contacted her sister to ask a favor. Would she contact Donna and have her call me collect? Her sister....Jackie.....said she would but not to expect a call.
The very next day Donna called me and we talked and laughed for over an hour. She invited me to come and see her in Missoula which eventually I did. It was beautiful out there and being with Donna once again was almost too good to be true. We had the time of our lives. There were one or two other visits which were equally as enjoyable.
In July 2010 Donna contacted me and asked if I would help her with some business concerns her daughter was having. She needed to go to El Paso to conduct the nature of the business. She flew in and I was there to pick her up at the airport. We spent a couple of days getting things resolved. The first night we had dinner and drinks and were our old selves; it felt nice.
Two months later news came that Donna had passed away in her sleep. I was devastated; a good and great friend was gone.
To say the impact of Donna from the start was average would be the understatement of my life. She meant so much to me during all the years of our relationship the words just don't come to me.
I met her daughter Shannon on a visit to my sister and brother-in-law's during Thanksgiving of that year in Tucson. We had lunch together. Shannon is paralyzed from the chest down with one leg removed as a result of hitting a tree not two miles from where she and Donna lived. She was a senior in high school.

The luncheon conversation with Shannon was one of common interests and common thinking; we hit it off perfectly. After lunch as she was preparing to leave, I leaned over and kissed her lightly on the forehead. She thanked me.
I've never written a poem about any person in my life that I knew until Donna. I only hope you will enjoy reading the one I'm now sharing; it means a great deal to me.

Love You Donna;
Jobby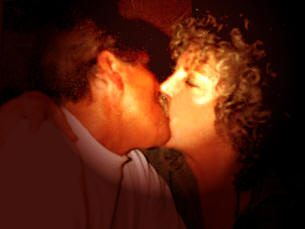 Donna Spearman, an incredible woman. 60 + years of friendship.