Ed Thurman & Barbara were boyfriend-girlfriend in high school...


..and their romantic relationship blossomed anew during our 50th Reunion in 2006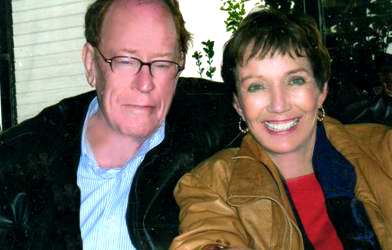 Ed created this composite of Barbara soon after the Reunion:

---
Barbara's Beloved Pets
[now living with new, known and loving guardians]


Serena

Fancy Pants
---
---



Sunni Totten-Parsons: The last time I saw Barbara was at the 50th reunion, it was great seeing her. We wanted to visit with each other more, but didn't get to do that because so much was going on, with so many of our old friends.

We were close in high school -- there were five of us: Barbara, Ann Brunson Conklin, Melissa Ware Rowe, Mary Ruth Calhoun, and me. We were into all kinds of activities and all five of us were ROTC Sponsors, it was a wonderful time.

We had so much fun in the two-door Pontiac that Mary Ruth's mother let her use, the five of us all over town together in that car, having a blast.. and also we enjoyed many excursions in the Pontiac convertible Ann's father gave her. Barbara's mom was a very nice and fun lady, and we spent lots of time at the O'Kelley house.

I was so terribly upset about Barbara's death. Barbara was a beautiful person and a talented artist.

Those years at AHS were the best. Things always change in our lives, and losing our friends is very sad. I'll always remember Barbara with great fondness.

Sunni

.........................................................................


March 9, 2012
Barbara Galloway: 1939-2011
Painter
_____________________________________________
By Sherry Campbell
I met Barbara many years ago at the Sunday art show along Cabrillo Boulevard. This was her mainstay, although she participated in many other art shows, including Stoneworks Studio in Ventura, the Ventura ArtWalk series, spring Ojai Music Festival, Around the Corner Gallery in Ojai, and Lisa's Gallery in Manhattan Beach. We soon started painting together in plein air — outdoors, in natural light — every Tuesday morning, no matter what the weather. One time, as we set up our painting paraphernalia at the top of Farren Road, overlooking Goleta Valley, the fog rolled in, and we couldn't see further than three feet. I suggested we imagine the scene, and she agreed, so we stayed and painted. Too few professional artists, which she was, have that spontaneous attitude.
Another time when Barbara and I were painting, she grabbed my palette away from me. A week later she returned it nicely framed and told me to sell it as an abstract. Well, one doesn't show just one abstract, so I painted two companion pieces. They both sold. I continued to sell the companion pieces, but never sold the original. I admired Barbara's gentle persuasion.
Over the years, we lost many of our favorite places to paint, as population expansion eliminated our parking places and vistas, but we never stopped our routine. Okay, we did break our routine, but that was to fly to Portland, Maine, as a guest of one of Barbara's customers, to paint there; and we also painted Catalina and in the streets and along the coast of Ensenada, Mexico. We two would always paint the same scene, but the results looked so different that it wasn't unusual for a customer to purchase both our paintings to hang in the same room. Other artists have joined me for weekly paint-outs for as long as one year, but no one was ever as committed as Barbara.
Her life story included growing up in the Texas border town of El Paso and having fun across the border in Juarez, Mexico, majoring in fine arts at Texas Western College, getting married and having three children — her son, Gary, and two daughters, Shelly and Kelly. Barbara also studied art in Houston at the Glassell School of Art and the University of Houston while raising her three children. Her former husband went from having nothing to being very wealthy, with homes in multiple cities, including the beach in Carmel where even the bathroom had an ocean view. He once designed a prototype car that went so fast that a comedian on the Jay Leno show said it made his teeth chatter when he stepped on the gas. For her, that life didn't compare with being a single artist in Santa Barbara, and often I would ask Barbara, "Remind me why I don't want to be extremely wealthy."
Barbara loved animals. The lake at her home in Rancho Goleta had ducks and often something would happen to one of the ducks or their babies. Barbara always took them in, filled her bathtub with water, and nursed them back to health. She worked with the Santa Barbara Wildlife Care Network to make sure she gave the correct care to her wounded friends. One time, a duck was caught in the drainage pipe of the community pond. Barbara wouldn't give up until she, and the other caring neighbors who joined her, saved that duck from certain death. Her compassion for wildlife was irrepressible.
Barbara was also a great decorator and cook. Every room in her house looked as though it came right out of a fashionable decorators' magazine. When we went shopping together, I was always amazed at what she would buy because she transformed the shabby chic purchase to give her home the flair of a French Bistro. When she had guests and parties, not only was the table exquisite, but each dish was gourmet. Christmas was so much work for her, but when I requested a Christmas party the year she wanted a break from it, she obliged.
A few years ago, a childhood sweetheart, Ed, showed up in her life. I saw the fun she had of being giddy again at our age. Barbara took in his dog, Fancy Pants, who became a great companion to her and her beloved cat, Serena. She was going for a walk with Fancy Pants when she suddenly died.
Barbara had so many good qualities, which included being trustworthy, persistent, and reliable. She loved her children and grandchildren and often talked proudly about them. Barbara requested no service when she passed on, so her children flew in from their homes around the globe for a quiet family ceremony at the lake in Rancho Goleta that Barbara had enjoyed so much. Acknowledgment of a life well lived is in order, and Barbara lived life fully as a mother and grandmother, a successful artist, a good and loyal friend, and a role model for many. Times keep changing, and life moves on, but I cherish all those years of our friendship.
.........................................................................
I loved Barbara O'Kelley, she was a doll and I thought so much of
her. Barbara was one of the major standouts in school. I'll never
forget our friendship and feel lucky to have known her.
-Bobby Jones
.........................................................................


---
If you would like to add a remembrance about Barbara to this memorial page,
email OhAHS@aol.com
______________________________________________________________________________________

Return to Obits Links Page


Return to News 2011 Page


Return to Classmate Memoriam Page


Barbara's Art